Your team can only have so many scouts, and each of those scouts can only be in so many places thru out the year. And no matter what they are looking for, the next wonderkid, the replacement for your second winger, a backup keeper, the player database can be large enough that you will miss players. That's not necessarily a bad thing, but it's not good either.
That said, no matter the size of your club or the size of the country your club is in, there is one free scouting tool that you can use to try and get a jump on the competition.
However, setting it up can be one of the most time consuming, infuriating things to do, but at the end of the day, it is a very good tool that can help you get the jump on many of those players who may not be "Hall of Famers", but are in the "Hall of Very Good".
This tool is Screen Flow.
Screen Flow can be found thru the 'Preferences' screen, under the Advanced Tab.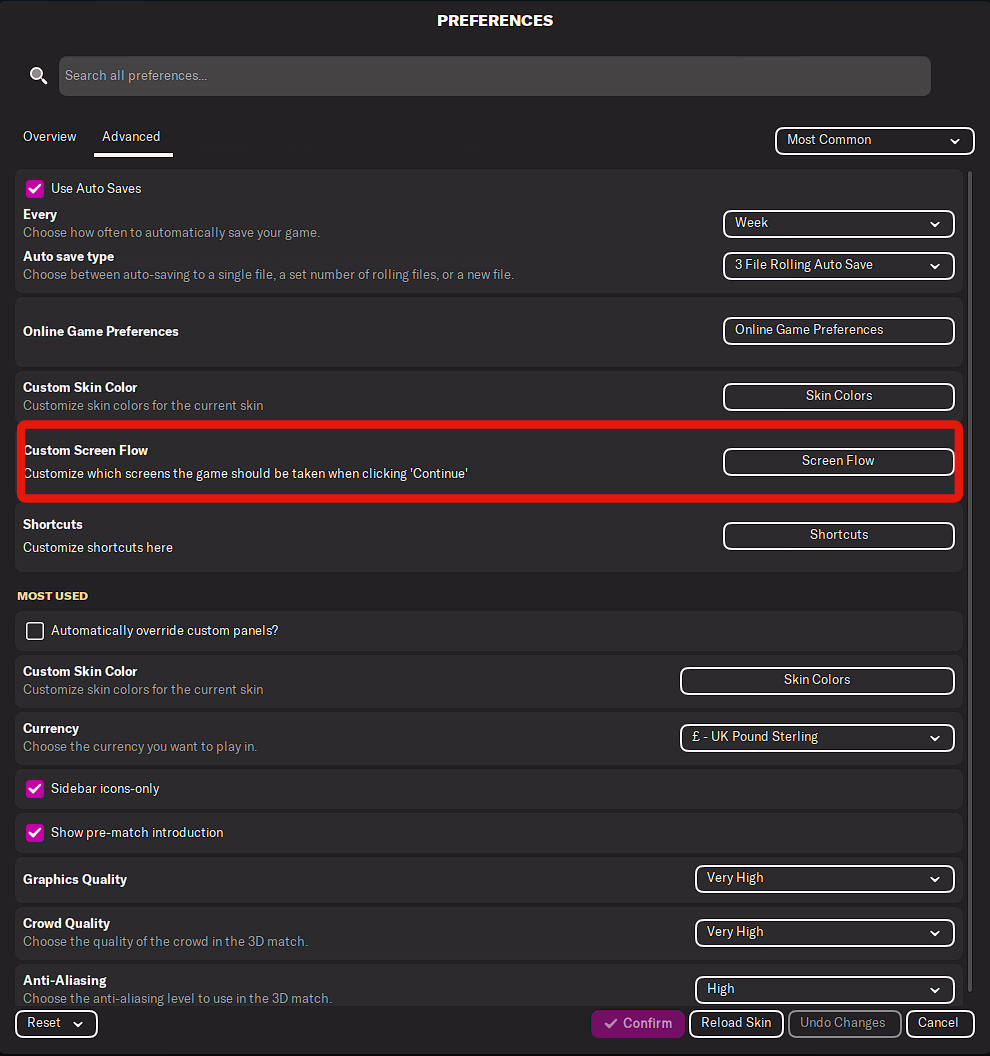 The screen, when you first enter it, is blank. You want to ensure that the 'Visit News Screens Automatically Box' is ticked.
When you click on 'Select Competition', you'll see a list of all seven continents and the world.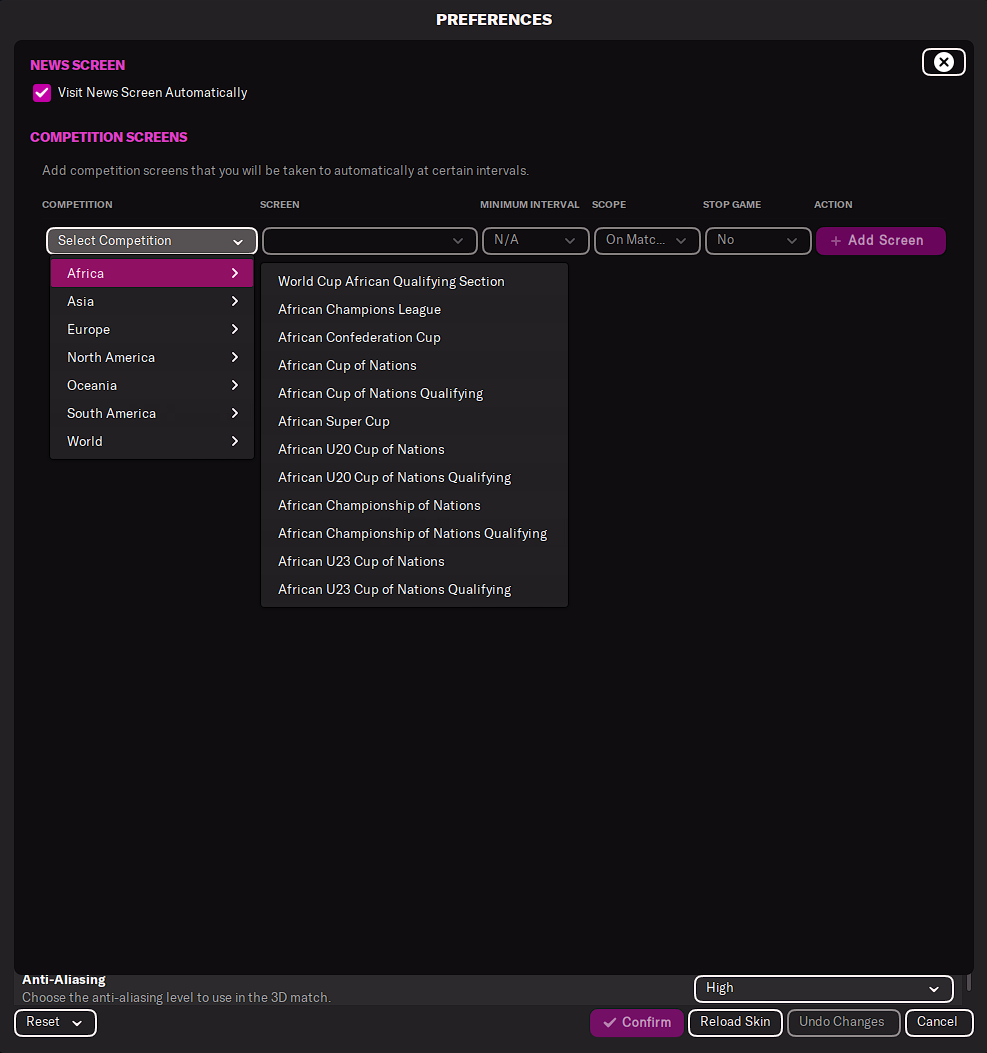 Now depending on how 'In depth' you want your scouting to be will determine what competitions you can scout. You can ALWAYS scout any 'International' competition, but where screenflow comes into play is Nation scouting, however there is a…minor drawback in that you can only scout competitions in countries you have loaded.
As an example, I have a test DB that has all the players enabled, giving me a playerbase of ~439,000 players.
In this particular test, I have one countries loaded, England. If I hover over England, you will see a list of every competition you can get reports from. As a note, despite the fact I only have England selected to play, in the following screenshot Italy is showing because it hosts the Italian Youth Club International, but if you were to click on Italy, you would not see any Italian League/competition options available for reports.
Once you have the competition you want to receive reports from identified, select it, and it will be added the 'Main' screen. From here, you have even more options.
My suggestion would be to use the following: Stats|Player Overview in the 'Screen Option', your 'Minimum Interval' should be N/A, 'Scope' I would leave on 'On Matchdays', and Stop Game to 'No', then select Add Screen, where you can enter in the next competition you want results from. When you have all the competitions you want reports from, select 'Confirm' at the bottom. You will get the 'Changing Skin' window, and then it will be back to your game.
Now, during the course of playing, when a game for a competition you have loaded has been played, a new screen will pop up. This is from my current save with Crystal Palace:
Essentially, what this screen is a report comprised of the players statistical data collected from the games played in competition up to the present in game date. I like to think of it as a manager, coach or analyst sitting down in front of their laptop and pulling up statistics from one of the many websites out there that reports results and includes data on the players form, and the Screen Flow screen is additional filtering of the results.
One of the many nice things about this screen is that under Stats, you can change the report, and the options match the options on the screenflow. The other thing that you can look at are the boxes underneath the initial window. All of these are customizable, and the good news is you can add any game statistic that FM has data for. The bad news is that you only have 8 boxes to use.
The worse news is that sometimes when you are using a skin that is not the base skin, the data boxes change, even if you go back and reset them. I am not sure why, but on some skins they do not move, and on other skins they do. One of the cool things I have found is that there are a couple of skins out there that have modified the xml controlling this view, and have made some very cool changes:
This is that same competition report from the skin I am using, and you will notice that in Average rating, DET has been added, and in Goals, FIN has been added. In this competition, David Mafoso is leading with six goals, and has a finishing of 11-17, and if we click on his name, his player panel we see he is a 16 year old striker with at least 11 FIN, 15 JUMP, and decent TEC, OTB and ACC. He's also been capped at the under 19 level.
From here, if you have the ability to scout him, scout him. If not, add him to a shortlist.
For every competition you add, you will get a screen. If you have a lot of countries loaded, you can get results from a lot of competitions. In My current save with Crystal Palace, I have added every Youth International Competition, and every countries U23 and U19 major competitions, but as an example of what you can add here are the options for Brazil, and you have to scroll down to get the rest. But seriously reports from U20 State Championships? That's cool.
The other thing that is cool is that you can add a country, set it to view only, and then in the Screen Flow you will be able to load competitions from that country. So even if you are playing with a small database, it's possible to add every country and set it to view only, and you can get reports from them. What this does to the player size of the database as you progress into the save I am not sure, but if like me, you are into scouting, this is a good tool to use.
While the Screen Flow doesn't show you everything, if you set it up they way you want, and see the same name popping up in multiple categories, its a sign they may be a good player. It could also be a sign they are a mediocre player in a bad league, but you don't know until you look.
As an example, this is Jair, one of the many Brazilian Newgens with potential. However, as good as he is Attribute wise, he was never capped at the U20 or U19 level, and has only 1 U23 Cap. However, when he was a youth player at FLA, I first saw him on a screenflow for the Brazilian U20 Cup. Then I saw him on the screenflow for the U23 National Competitions screenflow, and while he wasn't top in any category, he was top 5. I scouted him for two weeks, liked what I saw, and put him on a shortlist, and then when the FLA U20's won the National Championship, I scouted him fully, and liked what I saw. I made an offer for him, I was the only team at the time interested in him, and got him for 7.25M. A Good loan spell at Coventry, and then a starter this current season, he now has 5 star potential, and is valued at 22-29M.
In addition to being a scouting tool, Screenflow can also be used as a transfer tool as well. Here I am in Brazil, and have selected the Brazilian First National Division, because I don't have the real name fix installed on this save. Once selected, you have a variety of reports you can get, and in this case I am going to select 'News|Transfer Rumors'. Then under 'Scope' I am going to change the option to 'During Transfer Window', and the 'Minimum Interval' to 'Every Three Days'. Click add screen, confirm, the skin will reload, and now, during the Brazilian transfer window, you will get various rumors and which team they are associated with. It literally is a free tool you can use to get a jump on the competition, if your willing to spend the time an energy and go down a rabbit hole or three.
As good as Screen Flow is, there is some bad news, and for some people it may be a dealbreaker.
What's not cool is that screenflow is not a view. It cannot be saved/exported, so every time you start a new save, you have to re-enter EVERYTHING you want results for. It's a lot of clicking, and if you are adding a lot off competitions, you will want to click 'Confirm' every once and a while.
And if for some reason you hit Reset, it will remove everything you have entered. EVERYTHING. which means if your like me and your wanting reports from every country and International Youth competition, you can get a bad case of cramps, if not carpal tunnel.
However, having used it in multiple saves over multiple version of FM now, I can say that it is a very good arrow in the quiver that is scouting. You get reports from competitions in regions you are not scouting, or may even have zero knowledge in. You can build and add to shortlists that will help you in the future, and while to computer is out there searching for every potential wonderkid, even though you are in League One, getting ready to join the Championship, you got a screenflow report from the Korean League, and saw the same name pop up consistently, and when the board gave you enough transfer money to make some purchases, you bought the young D(C) who will never be more than 4 stars, but was a defensive stalwart for your team for 12 years, helping you win the Prem, the Euro Cup, and the Champions League before he retired, at the bargain price of 3.5 million pounds.
I hope this was helpful, and if there are any questions, feel free to leave them in the comments below, or you can tag me on twitter @FM_Jellico.
Thanks for reading, and good luck in your future scouting!